Honda of Westport Awarded
2018 Connecticut Hydrogen and Electric Automobile Purchase Rebate Electric Vehicle Champion Award
Honda of Westport Makes Great Progress Bringing Electric Vehicles to Connecticut Drivers!
The all-new Honda Clarity enjoys a prestigious reputation now as a popular electric car in the United States, with Honda continuing to lead at the forefront of green, commuter-friendly cars. Here at Honda Westport, we strive to bring these vehicles to you in Connecticut and this progress recently earned us the 2018 Connecticut Hydrogen and Electric Automobile Purchase Rebate Electric Vehicle (CHEAPR EV) Champion Award from the Connecticut Department of Energy and Environmental Protection as we sold the most electric vehicles statewide this year without inventory of Honda Clarity plug-in hybrid and Honda Clarity Electric models. While we are quite proud of this achievement, that does not mean we want to stop providing clean, green cars for you conscious drivers out there, so check out our new Honda Clarity inventory and come test drive one here at Honda of Westport. Our dealership is located at 1372 Post Road East in Westport, CT.
Advanced, Well-Balanced Performance
The "green car" is rapidly becoming the way of the future, with many people all throughout the world seeking more commuter-friendly models with alternative energies, such as plug-in electric models and fully electric cars. The Honda Clarity can provide both as one comes with a well-balanced powertrain consisting of an inline four-cylinder engine and an AC Permanent-Magnet Synchronous Electric motor, and the other consisting of a Coaxial-Type High-Output Electric Motor. Each of these mid-sized sedan models provide a great deal of interior space and accessibility for passengers with almost 102 cubic feet of passenger volume as well as 15 cubic feet of cargo volume. With the CHEAPR EV Award, and the energy rebates that come with it, we can continue to bring you these excellent green Honda models conveniently, so come check one out today and be sure to check out our new vehicle specials to find out if there is a loan or lease offer that awaits you.
Find Clarity and Efficiency in Westport Today!
Just because our achievements in sales have achieved acclaim does not mean that we will not continue to bring these excellent Honda Clarity Plug-In Hybrid and Honda Clarity Electric Models to you in Connecticut. Check out our new vehicle specials for potential auto loan or lease offers, then test drive the all-new Honda Clarity right here at Honda of Westport. If you have any questions, do not hesitate to contact us here online and one of our sales representatives will answer your question in a timely manner. We hope to see you soon!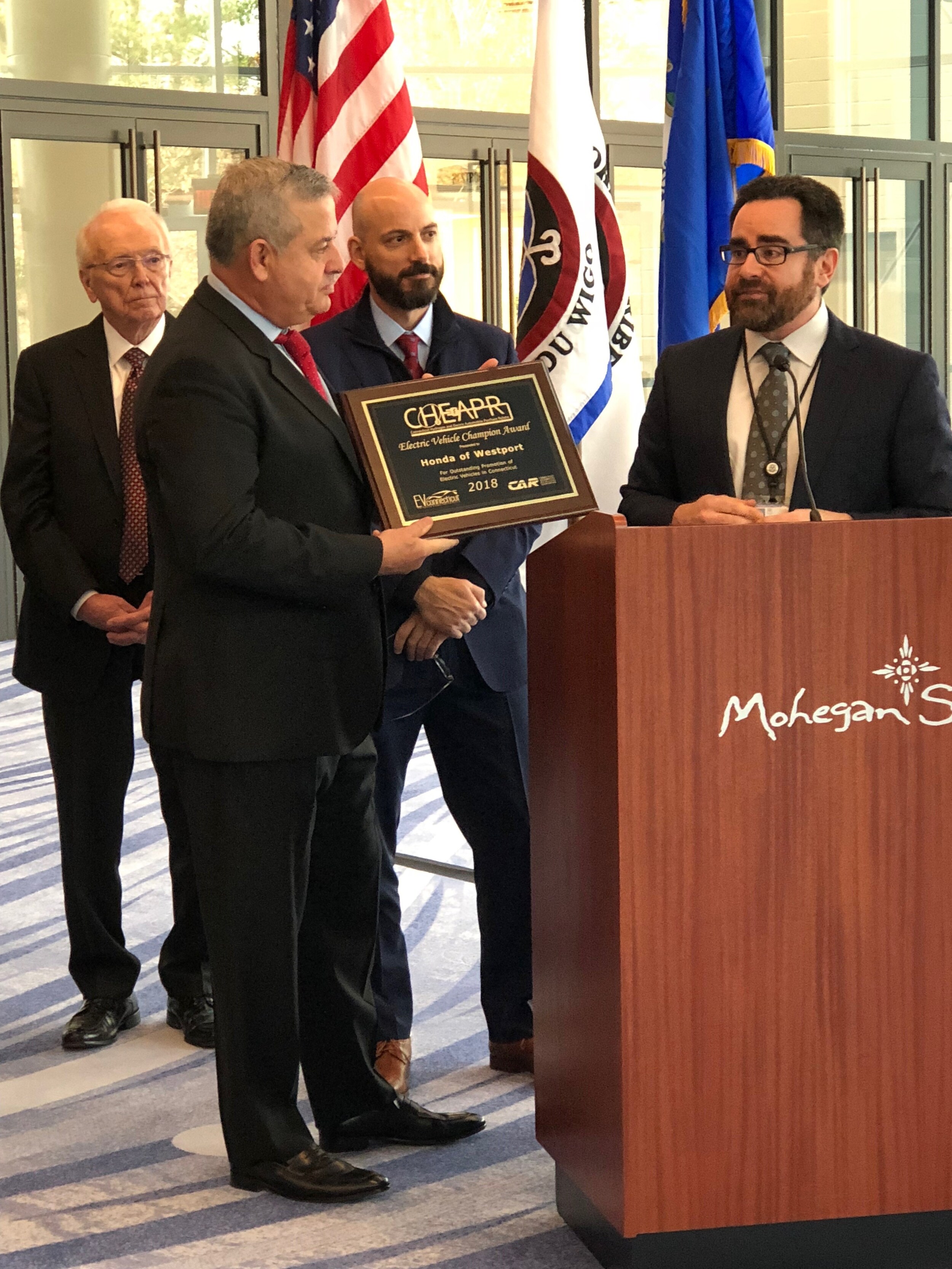 Visit Honda of Westport to get your new Clarity today!