Get a Lifetime Car Warranty on All new Honda and Selected Used Cars at Honda of Westport, Connecticut.       

Announcing the Honda of Westport exclusive Lifetime Warranty.  The Honda of Westport's exclusive Lifetime Warranty is now included with all New Honda and select Pre-Owned vehicles, exclusively presented by Honda of Westport.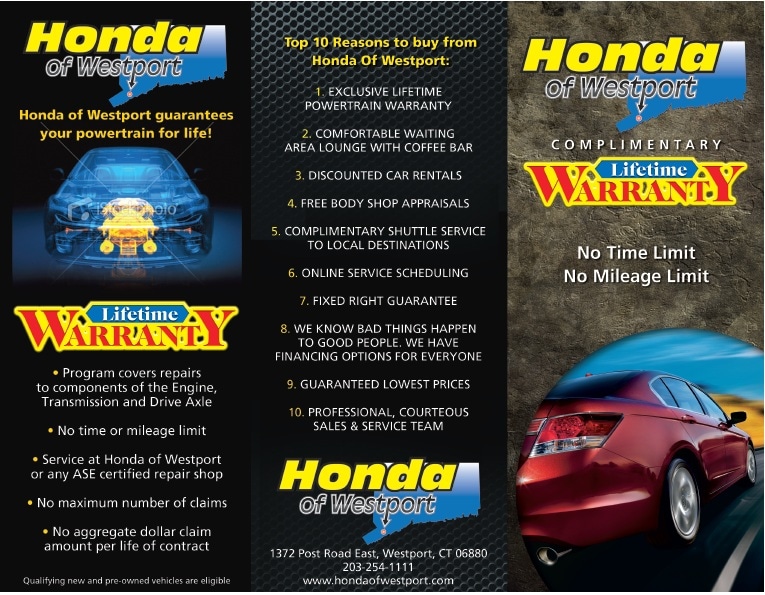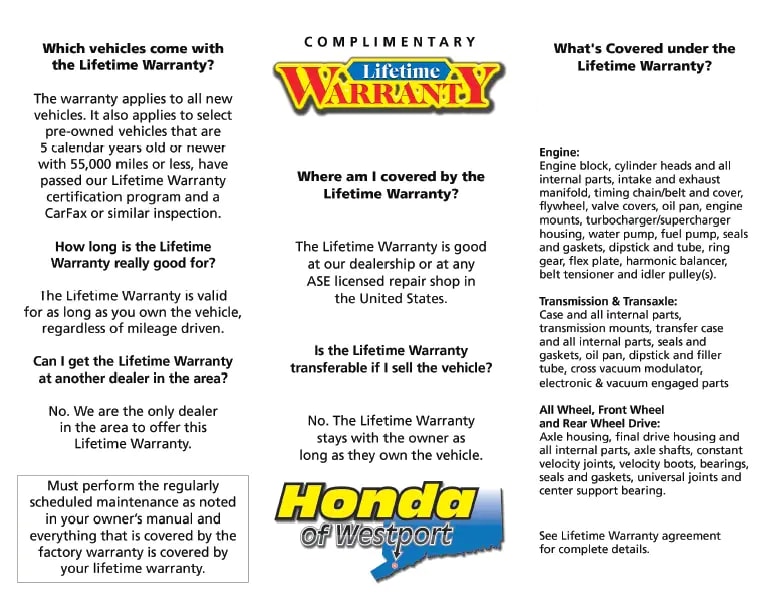 Honda of Westport has Great Protection to Offer for Your New Honda Model with a Lifetime Warranty!
Buying or leasing a new car can be a fun and exciting time for both you and your family, but many people still have their reservations about getting one when it comes to maintenance. While many dealership and factory warranties keep the most important vehicle components covered for a time, they often are limited by time and distance factors; for example, a basic powertrain warranty will cover your car for five years or 60,000 miles but expires as soon as you hit either restriction. Here at Honda of Westport, we want to help you protect your new or Certified Pre-Owned (CPO) Honda model for as long as possible and ensure that you have access to important repairs when you need them the most, which is why we offer a complimentary Lifetime Warranty, which covers the powertrain of your vehicle. Take a look at our handy brochure and think about our Lifetime Warranty for your next Honda model! Our dealership is located just 20 minutes outside of Stamford in Westport, CT!
All the Services that Fairfield Needs!
Now, you might be asking yourself "what is 'powertrain' and why is it so important to protect?" Well, the powertrain, as its name implies, is comprised of all the components that power your Honda model and make it run from Point A to Point B. This includes the engine, transmission, and the drive line (front-wheel, rear-wheel, or all-wheel drive), as well as all of the parts that make up these sections of the vehicle. All of these sections of powertrain, and the parts that make them up, are covered in this complimentary Lifetime Warranty, allowing you to repair and maintain them with ease when you take them to our service center or any other repair shop licensed by the National Institute for Automotive Service Excellence (ASE).
This warranty not only covers new Honda models, it also covers CPO Honda models, as long as they are newer than five years old and have less than 50,000 miles on their odometers. While the Lifetime Warranty is non-transferrable if you sell the vehicle, the warranty lasts for the entirety of the Honda model's existence with no time or mileage restrictions.
A Great New Honda with Lots of Protection for Norwalk!
Our complimentary Lifetime Warranty can ensure that your Honda model retains its resilience for as long as possible by giving you access to repairs and maintenance on the most important components for as long as you have the Honda sedan, Honda hatchback, Honda truck, or Honda SUV. Ask your sales representative about our complimentary Lifetime Warranty and test drive a new or CPO Honda model here at Honda of Westport! We're located at 1372 Post Road East in Westport, CT, just 15 Minutes outside of Bridgeport. See you soon!