New Honda Accord for Sale in Westport, CT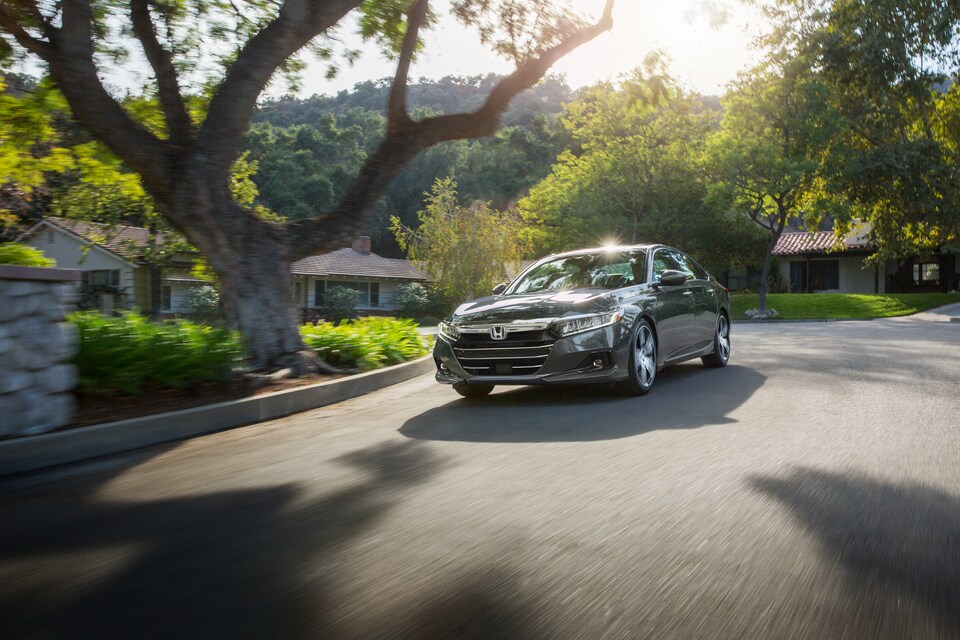 New 2023 Honda Accord for Sale in Westport
The new 2023 version sets itself apart from the competition with its value-added fuel economy, agile handling, and spacious cabin, all of which are enhanced by the car's advanced features. This vehicle is suitable for drivers around Stamford due to its agile handling and seating of up to five.
This 2023 Honda Accord is offered in the following trim levels.
LX
Hybrid
Sport
EX
EX-L
Touring
Performance
New 2023 Honda Accord comes with a standard 1.5-liter turbocharged four-cylinder engine, producing 192 horsepower and 192 pound-feet of torque. It will be paired with a continuously variable transmission.
This vehicle has an optional 2.0-liter turbo inline-four, which delivers 252 horsepower and 273 pound-feet of torque. It's mated to a 10-speed automatic transmission.
This vehicle has an Accord Hybrid with a 2.0-liter four-cylinder engine with two electric motors offering a combined output of 212 horsepower and 232 pound-feet of torque.
The Accord comes standard with front-wheel drive and has an EPA estimated up to 30 mpg/city, 38 mpg/highway, and 33 mpg/combined.
Exterior and Interior Features
The exterior of the new 2023 Honda Accord is a sight to behold, with its chrome grid grille, LED brake light, and alloy wheels. The chrome grid grille is a feature found on many vehicles nowadays, providing a unique look to the vehicle's front end. LED brakes produce a red light at their source that indicates when you're braking to other drivers behind you, and they're more energy-efficient than the traditional brake.
The new 2023 Honda Accord is equipped with a speed-sensitive variable intermittent wiper, which adjusts the wipers' speed to suit your driving conditions.
In the interior, this vehicle has supportive seats featuring plenty of legroom and headroom for the driver and passengers. You will enjoy seating inside this vehicle as you travel from Fairfield to Norwalk, thanks to the seats, shift mode, and steering wheel wrapped with premium perforated leather for comfort and luxury.
Technology
With Apple CarPlay and Android Auto, Bluetooth and USB connectivity, wireless connectivity, and more, the new Honda Accord is available with technologically advanced features that make it both fun to drive and easy to use.
Apple CarPlay and Android Auto allow you to connect your smartphone to your car's dashboard screen to use like any other screen. You can send texts or make calls from the screen and switch between apps easily by swiping your finger across the screen.
Both are capable of transferring data and charging your phone at the same time. If you have an older model phone without wireless capabilities, you can still use these two features with a wireless adapter that plugs into the USB port. Acord Sport trim adds more USB ports and an upgraded audio system.
Wireless connectivity allows you to connect your phone to the internet using your car's connection for much faster speeds than the ones available on your phone. The most stunning feature is the new 8-inch infotainment screen that comes standard with a best-in-class 450-watt music system on the EX-L trim to help you enjoy music as you ride around Bridgeport.
Safety
This vehicle has safety features to protect you, your car, pedestrians, and passengers. Safety features include lane departure warning, forward collision warning, blind spot monitor, collision mitigation braking system, lane guard assistance, low tire pressure monitoring system, and emergency braking assistance.
Lane departure warning is a feature that helps drivers avoid wandering out of their lane. Forward collision warning uses sensors to detect when a forward collision might be imminent; it will alert you with horns and flashing lights if it senses that you're about to hit something. The blind spot monitor can tell which direction a driver isn't looking and will alert the driver with lights in their side mirrors.
Are you in need of a new car around Westport? We at Honda of Westport welcome you to test drive this new 2023 Honda Accord. We will assist you in selecting the best trim level for your daily needs.